New Year's Eve, 2006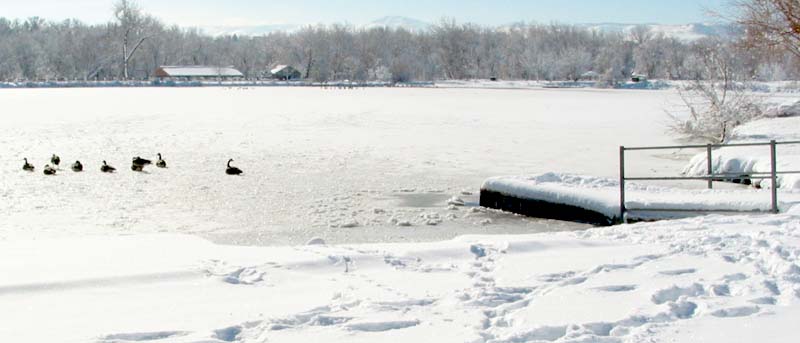 The dock at Prospect Lake
In the two weeks surrounding Christmas, Colorado was hit by back-to-back blizzards. I was sure this meant the end of an annual event. For the past three years I have brought in the New Year with ham radio - from a boat. But today would make year number four, and I was determined to continue the tradition..
I arrived at the lake shortly after two in the afternoon. The temperature was thirty-two degrees, the predicted high for the day, but the sun was shining and felt warmer. I would have set up immediately, but a police car had pulled in to the park just ahead of me. I thought it prudent to wait for him to leave before pulling out both a boat, and what would appear (to him) to be a three-story-tall fishing pole. There are no posted rules against
boating
on a frozen lake - the though probably never occurred to sane people and rule makers - but I didn't want to take the chance he would try to protect me from myself. I can just hear it: "Come along now like a good lad. You'll be alright soon enough. They have medications for this sort of thing."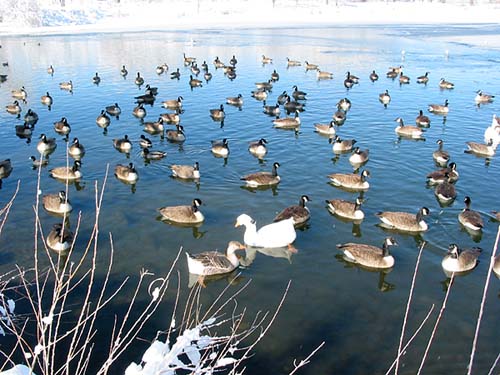 About eighty-five percent of the lake was frozen, but I found a piece of open water along the southwest shore where I could slide the loaded boat down a snow-covered embankment and hop in.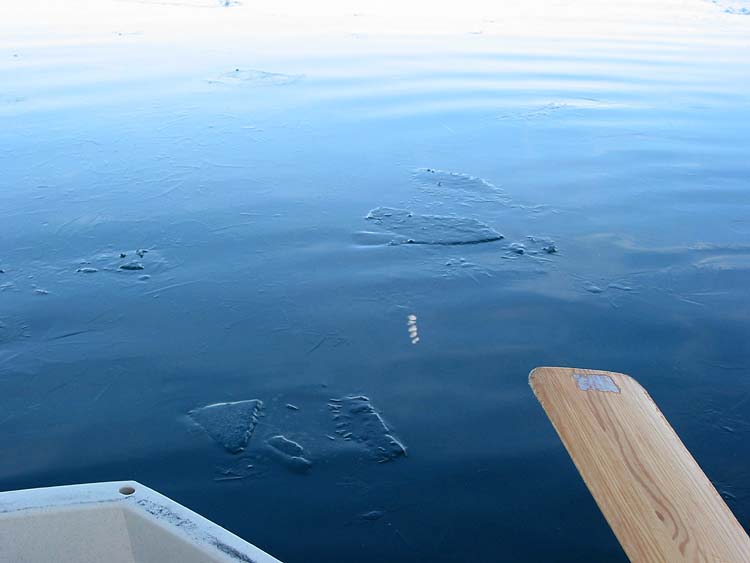 There were miniature ice floes all around me, and as the temperature dropped I could see the water's surface begin to gel and then crystallize, warning me that I could be icebound if I stayed out too long. While the area of open water on the lake was significantly smaller than in previous years, I did spend a good deal of time rowing as the cold breeze did its best to push the boat toward the ice that was never far away.

The antenna was simply a half-wavelength of wire: thirty-three feet long and broken at the twenty-six-foot point by a Molex connector giving it dual band usefulness. The wire was supported by an MFJ 10-meter telescoping pole mounted in the bow of the boat. I use no ground or counterpoise with this antenna.

I turned on the radio, my trusty FT-817, and tuned for the 17-meter band. My first contact was to Florida, followed by a VE7 in Canada. My final chat on 17 meters was with JH0HQP in Japan! His signal was 59, and he gave me a 53 report. I'm sure it helped that the K index was zero for much of the day. After the JA I pulled down the antenna and connected the remaining 7 feet of wire for 20 meters. I checked in to the Maritime Mobile Net on 14.300, then made a few more contacts before the clock struck midnight (UTC).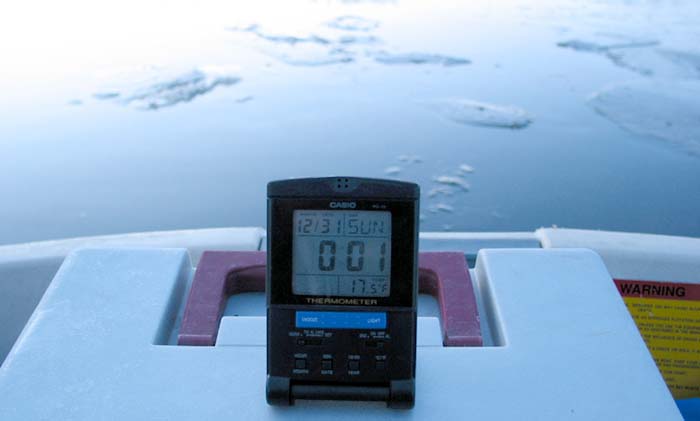 It was none too soon in coming. The digital thermometer on my Casio travel clock read seventeen degrees and I believed it. I had burned through three sets of AA batteries in less time than two would normally last. Poor things just couldn't take the bitter cold. Next time I will keep the spare packs inside my jacket. Just before turning for shore, I put the clock on top of my tackle box and took a picture right after midnight, Greenwich Time. I envisioned an impressive photo showing not only the sub-freezing temps, but also documenting I had been on the water at the beginning of the new year. It wasn't until I got home that I discovered the clock's date was off by a day. Arrrg! Oh, well.
Here are my final QRP contacts for 2006 with reports:
17 meters:
KI4HRO, Florida, 59/59
VE7CYY, BC, 58/56-9
AB2SW, NY, 58/57
WA1DCP, FL, 59/57
W2CI, FL, 54/53
WA1WXL/4, NC, 58/55
KE4NQF, NC, 58/57
KI0P, CO, 57/55
VE7NBQ, BC, 59/57-9
JH0HQP, Japan, 59/53
20 meters:
KA4BPR, AL, 59/57 (MM Net)
W9EC, CA, 59/?
W7SWL, WA, 59/57-9
W3FF, CA, 59/55
W1CDO, NM (remote), 54/?
Not too bad for five watts and a microphone.
Can't wait for next year. . . .
Jake, N0LX
Golden, Colorado
Note: Here is what the boat looks like with the big mast (on a warmer day):
http://www.n0lx.com/autumnboat.jpg
....