October 20, 2006: First time out with ham radio in kayak
There was snow in the forcast for the weekend, so it was either go now or wait another week. I spent most of the day getting the boat ready for some kayak mobile operating. I modified a spare hatch cover to support a
Cabelas 14' graphite fishing pole
. (Thanks to Jim Cluett, W1PID, for introducing me to the pole in his
Adventure Radio Society article
). The support base begins with a 1-1/4" PVC cap bolted to the hatch cover.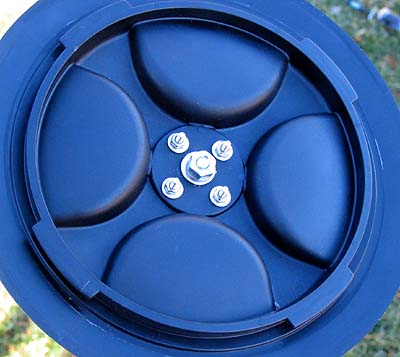 Inside the cap is a 1-1/4" to 3/4" adapter. A length of thinwall 3/4" PVC pipe fits into the adapter. A shorter length of 1/2" PVC slips down inside the larger tube to act as a stop for the fishing pole. The Cabelas pole slides down into the tube about six inches. Following my usual tradition, I painted all of the PVC black. This base will support a homebrew
14-foot end-fed halfwave antenna
.
My halfwave tuner is taped to the antenna support. Forward of that is an orange waterproof bag containing my FT-817 radio. If conditions get too rough, I can disconnect the headset and coax and close the bag for complete waterproof protection of all the gear.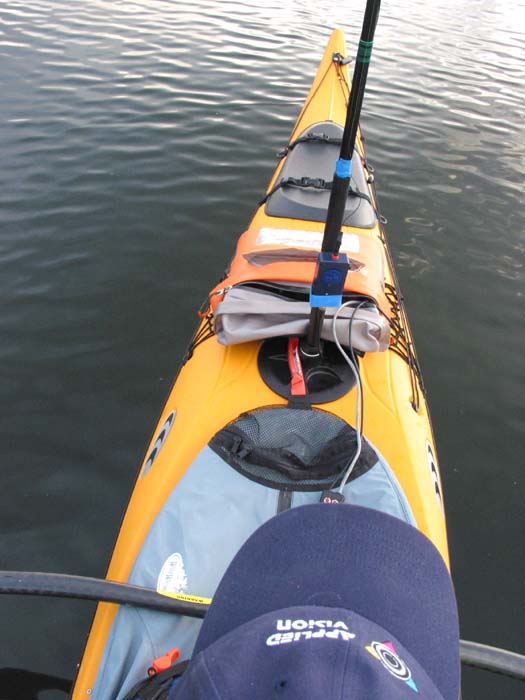 .
With the paint still drying on the new project, I finally pushed away from the dock around five o'clock local time as the air temperature began its descent from a high of fifty degrees. With the seriously shortened halfwave antenna, I made eight contacts in an hour-and-a-half on the water. I talked to California, Washington and Nevada to the west, and Illinois, Michigan, Alabama and North Carolina to the east. These were all made at five watts, sideband, with a set of eight rechargeable AA batteries inside the radio. Signal reports received ranged from 51 to 59 with most in the 53 to 57 range. I managed to log everything with my Palm IIIxe, but found it's not very convenient to use a PDA while you're trying to paddle. I may have to revert to my digital voice recorder next time.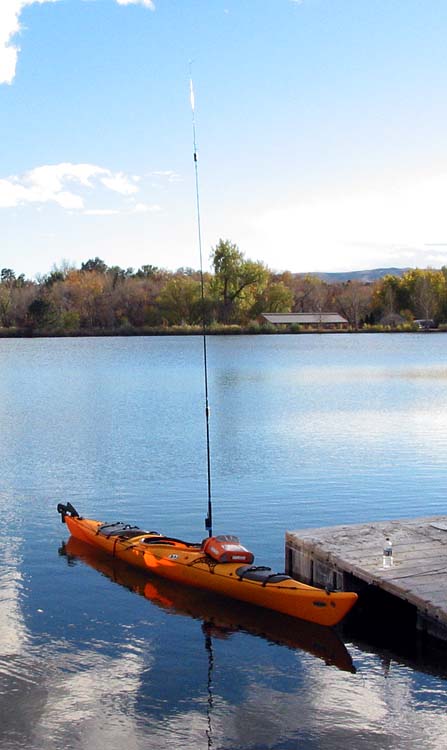 I was having fun, but I knew it was time to go when cars leaving the area all had their lights on.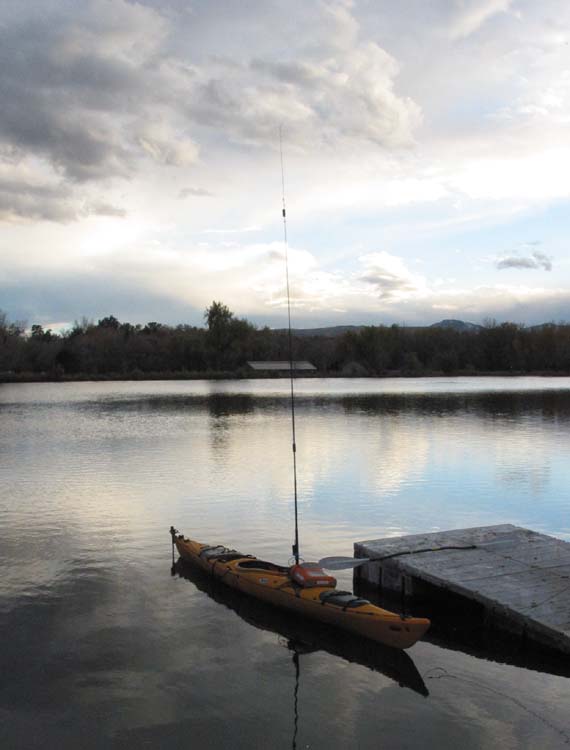 Prospect Lake, Wheatridge, Colorado just hours before the snowstorm
October 20, 2006 (update):
It's midnight, six hours after I took the last picture, and the snow is coming down hard outside. Talk about timing!
October 21, 2006:
Here's
a photo I took the very next morning from the lake
. It was 10:00 am, and the Colorado sunshine was already melting the 4" of snow we received overnight.
Next spring and summer hold many opportunities for exploring the waterways here in Colorado while operating marine mobile, along with camping and beachside portable operating. I can't wait. Too bad winter is still on its way.